Venice
Full day tour. Boat ride, escort and local guide included. Valid travel document obligatory.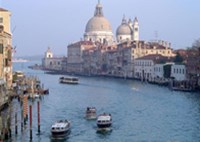 A pleasant cruise to Venice, lasting around 2 and a half hours, will take us to one of the most beautiful and the most romantic cities in the world. A great maritime power in the past, called "Serenissima" and "The Queen of the Adriatic", Venice grew on 118 islands and lagoons intersected by canals, linked by some 400 bridges. During the cruise, an guide will give you details of the day's program. Sightseeing Venice includes St Mark's square, with its basilica - the best example of Byzantine architecture with its Bell Tower and the magnificent Doge's Palace. We continue our tour crossing the Academia Bridge admiring the luxurious beauty of its palaces. Time at leisure to explore this legendary city.
The regular price is 90 € (678,11 HRK) from Poreč and 85 € (640,43 HRK) from Pula and Rovinj.

Discounts for children: children 0-6,99 free of charge, children 7-13,99 pay 50% of the price.

Additional return transfer to port Pula: 8 € (60,28 HRK) per person.