Fish picnic-Cape Kamenjak
Half day tour. Transfers and lunch included in the price.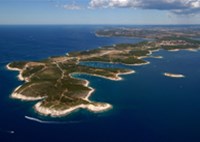 Upon leaving the Port of Medulin, welcome drinks are served to the guests during a panoramic ride to the southernmost part of Istria – Cape Kamenjak. Then we reach the Golumbera Cave, where the guests can swim and visit the caves. The panoramic boat ride continues to the Porer Lighthouse, built in 1846 during the Austro-Hungarian rule, and other islands in the Medulin Bay.
After lunch, you can spend some time on the sandy island of Levan, where you can enjoy its beatiful nature and crystal clear sea. In the Sunshine Levan Beach Bar you can taste various seafood delicacies and the rest of its diverse menu.
The price is 35 € (263,71 HRK) per person. Discounts for children: children 0-3 years pay 1 € (7,53 HRK), children 4-11 years pay 22 € (165,76 HRK) and children 12-16 years pay 24 € (180,83 HRK).