Sunset with dolphins – Cape Kamenjak
Excursion lasting 3 hours. Dinner included in the price.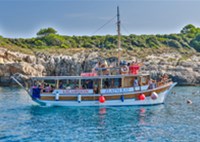 As a welcome to the boat trip, guests will be offered a refreshing beverage, juice, water, aperitif.After serving aperitifs with romantic notes of music, we sail slowly along the Medulin archipelago towards the famous nature park RT Kamenjak, with a panoramic ride gently sailing around the entire nature park and its protected untouched nature, which is especially nice to experience and see from the sea side and especially at sunset. As we visit Cape Kamenjak, our view goes back to the giant, the largest lighthouse in the area, the famous Porer lighthouse built back in 1846 during the Austro-Hungarian era. Porer Lighthouse is the most beautiful during sunset, you need to experience it and capture it with a photo.
After looking around and capturing with a photo of the beautiful scenery of Cape Kamenjak and Porer lighthouse, it is our way to go in search of dolphins.
In the meantime, we serve you a delicious dinner prepared on board, you can choose from the menu, you offer a meat, fish or vegetarian meal. Listening to the sea and accompanied by seagulls following the sunset, we return to the port of Medulin to bring our wonderful journey to an end.
The price is 35 € (263,71 HRK) per person. Discounts for children: children 0-3 years pay 1 € (7,53 HRK), children 4-11 years pay 22 € (165,76 HRK) and children 12-16 years pay 24 € (180,83 HRK).