Rovinj-Lim-Red Island
Full day tour. Guide and lunch included.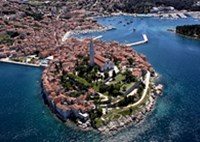 Most picturesque part of Istria – Rovinj is going to fascinate the visitor with centuries of history, beauty of historic town core and special Mediterranean vegetation. This excursion includes visit to one of most attractive islands of Rovinj archipelago- Crveni otok (Red Island) that used to be favorite destination of Austro-Hungarian tourists, and also visiting Lim Fiord, protected landscape, unique by its rich land cover and animal world.
The price is 70 € (527,42 HRK) per person, transfer to port and back: 7 € (52,74 HRK) per person.

Discounts for children: children up to 6 years free of charge, children from 6-11 years pay 35 € (263,71 HRK), transfer to port and back 7 € (52,74 HRK).